Located in the heart of Dubai's Downtown area, the Address Residence Fountain Views, designed by regional architecture firm Dewan Architects + Engineers with associates DP Architects and Atkins, is a mixed-use project consisting of three buildings perched atop a multi-level podium. Designed for Emaar Properties, one of the UAE's leading developers, the Address Residence Fountain Views is one of the most recent additions to Sheikh Mohammed Bin Rashed Boulevard, a winding, circular road that's home to Burj Khalifa, Dubai Mall and Souk Al Bahar.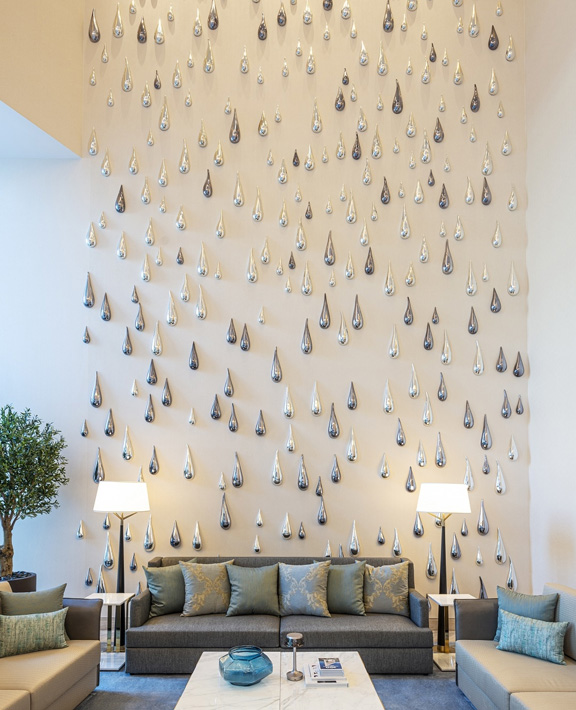 An extension to the Dubai Mall, the project contains a podium with three floors of retail and nine levels of parking, while above this sits a mix of service apartments (783 units in total) and a five-star, 193-key Address Hotel. The three buildings are connected via the podium as well as a bridge that also links back to the mall. According to Yann Pennes, projects director at Dewan, the architects were tasked with creating a project design of "unique character" while providing the maximum efficiency in use. This was achieved by designing the towers' façades to evoke a woven texture, created through the use of double-glazed, floor-to-ceiling windows and balconies.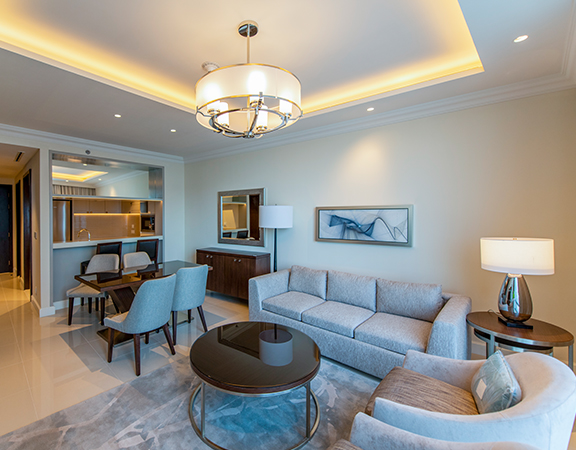 "Emaar wanted to provide a level of variety in the towers' designs that reflected their mix of offerings," Pennes said. "Hence the two service apartment towers match visually, while the hotel tower located at the centre has been treated differently. "The original woven texture of the buildings is inspired by the curvature of the façades opening toward the Downtown Fountains. As the outer face of the buildings was bent to open toward the main view, the woven texture became an expression of this orientation. The slab edges were oriented in an alternative sequence, which provided the façade's intertwined texture both horizontally and vertically."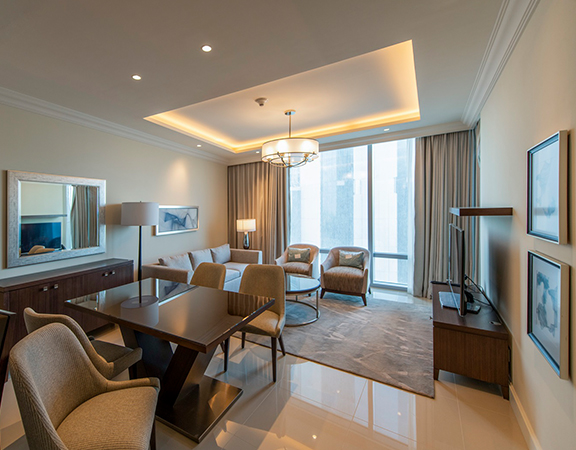 Pennes added that the Address Residence Fountain Views is one of the largest (and first of its scale) single mixed-use developments in the UAE to incorporate all of the country's latest regulations related to high-rise towers, such as fire safety, security and façade treatments. With a built-up area of one million square metres, the Address Residence Fountain Views maximises its viewing angles, with corner units able to enjoy 270 degree views. Furthermore, the top of the podium is a "prime spot", said Pennes, that has been developed for public space use that can be enjoyed by residents and visitors, and features a large landscaped area with access to recreational facilities and food and beverage offerings.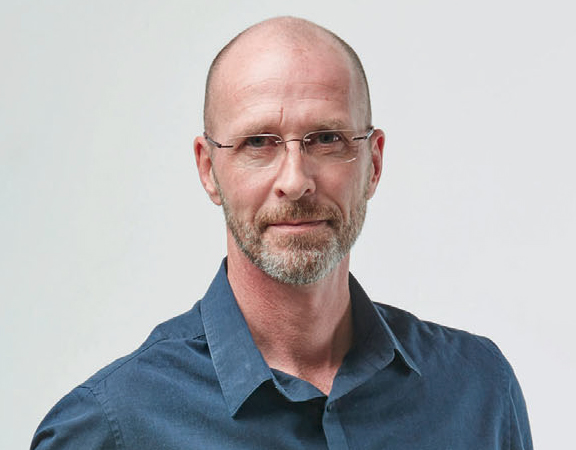 Yann Pennès - Projects Director - Dewan Architects + Engineers
Additionally, private terraces were built into the stepped rooftops that crown the buildings, offering exclusive views of the surrounding urban context to end-users of the penthouse units. "Fountain Views is also integrated into the larger public realm of the downtown area and the boulevard itself," he said. "The project's strategic location places it in the heart of the city's central district, just minutes away from Dubai's corporate nexus."